Artists Arrive
We're thrilled to welcome world-renowned visual artist Reinhard Reitzenstein to the Asterion camp. A native of Uelzen, Germany, Reitzenstein has completed installations at The Confederation Centre for the Arts, The Nickel Arts Museum, The London Regional Art Gallery, Rideau Hall, Toronto's Harbourfront and Guelph's own Donald Forster Sculpture Garden and Macdonald Stewart Art Centre, to name but a few. Currently the director of SUNY Buffalo's Sculpture Program, Reitzenstein experiments with a wide variety of mediums and materials, including wood, glass, metals, video, music, sculpture and photography.
We're not too upset about the wine and cigars he brought either.
Reitzenstein will be completing an installation in the museum section of the Asterion Labyrinth. For more information visit his website: http://www.reinhardreitzenstein.com/portfolios.html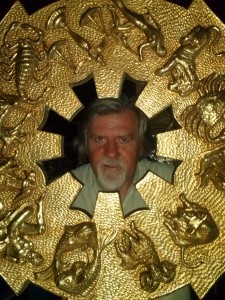 We're equally excited to have Danny Wild as our resident chef. Wild is a triple threat, as he not only cooks, but also dances and performs – seems like he'll be right at home around here . . .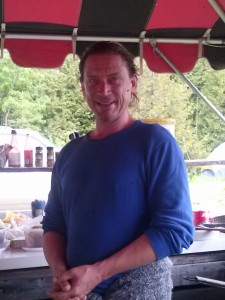 Installing the "Three-Horned Enemy" in the museum building: